1. MARINE COLLAGEN
A NATURAL FUNCTIONAL INGREDIENT TO BOOST/RESTORE HYDRATION, TONICITY AND ELASTICITY OF TISSUES
A pure, made-in-France, essential ingredient with a neutral taste to help boost and maintain the natural synthesis of collagen fibres
Fish skin, a resource previously unexploited, has 7 times less carbon impact than bovine collagen!
Collagen was naturally consumed long ago by our ancestors, whose diet had a higher animal collagen content (skin, cartilage and bones). Collagen is compatible with a paleo- friendly diet.
Traditionally used in Japan, where it is known to be particularly biocompatible or bioactive, as well as ensuring good bioavailability
Points to note:
Collagen is naturally present in the body (muscles, skin, bones, tendons, cartilage, hair, nails, etc.) and plays a major role in providing support and/or increasing elasticity.
From the age of 25, collagen production in humans decreases by 1.5% per year.
From the age of 45, the body produces about 1/3 less collagen, resulting in

reduced tissue tone

(joints, muscles, skin, etc.),

loss of mobility

and

loss of the overall "youthful" appearance

.
Current diets – which are often unbalanced with over-emphasis on ready meals and lean meat without bones or cartilage – leads to lower external collagen consumption.
An additional supply of bioactive collagen - rich in key amino acids that make up type I collagen - helps to

stimulate and restart the body's own collagen metabolism

. In joint cartilage, the hydrolysed peptides contained in our marine collagen also stimulate chondrocyte production - cells that are involved in type II collagen synthesis.

For the hair too!

Marine collagen supports the activity of the stem cells of the hair bulb in depth and thus boosts the production of keratin. This protein is responsible for the strength of hair and nails.
Studies and scientific evidence:
A supplementation of 5g/day of bioactive fish collagen peptides was performed for 12 to 14 weeks.
Significant results were observed

as early as 6 weeks

on various functions

SKIN BEAUTY: a significant improvement in skin hydration (+23%), a significant increase in skin elasticity (+24%) as well as a decrease in skin relief - "wrinkles" (-9%) have been shown. An overall "anti-ageing" action that can be explained in part by a better defence reaction of the skin against the effects of time and the environment (slowing down of endogenous synthesis, UV radiation, pollution). Clinical study over 12 weeks

.
Collagen has a nourishing action "from within": it can therefore be used in addition to a topical solution (e.g. cosmetic cream). The effect of the latter will inevitably be limited when applied to the skin because the skin barrier prevents "foreign" active ingredients from being absorbed. However, when we drink or ingest collagen, most of it is absorbed by the intestinal walls and put to good use by the skin.
Main roles and functions of collagen in our body: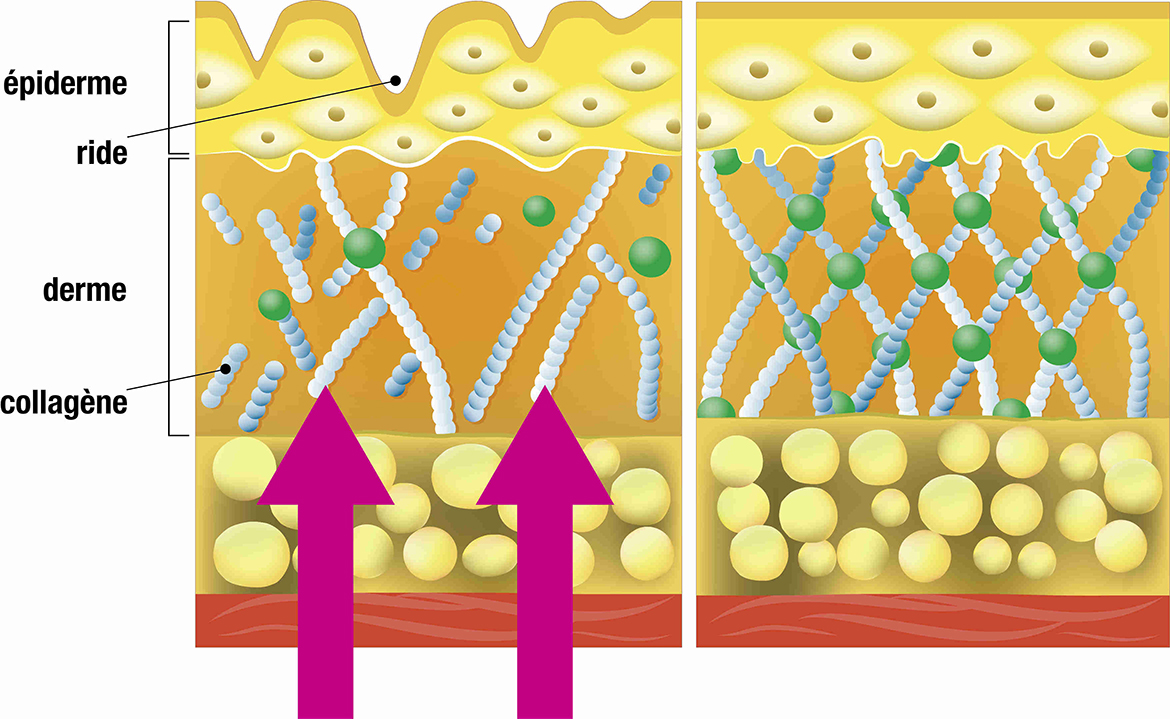 2. HYALURONIC ACID
THE EXPERT COMPONENT FOR "SMOOTHING" DEHYDRATED SKIN
A molecule naturally present in the body and widely distributed in our epithelial and nervous tissue
Retains more than 1000 times its weight in water. For more supple, rejuvenated skin
Natural hyaluronic acid levels decrease with age, so by the time we reach 50, half of our hyaluronic acid reserves will have disappeared.
Appropriate supplements will help to regenerate the skin:
A very high-quality molecule obtained using an vegetale innovative biofermentation process - no impact on people or nature
Available here in optimised fractions specifically adapted for optimal use on the skin
Excellent tolerance
Suitable for moisturising young skin and for use as an anti-ageing product for more mature skin
Proven effectiveness (see studies below)
No animal testing
Points to note - Hyaluronic acid:
Improves the tone of mature, damaged or specific skin
Improves skin moisture levels and elasticity from within
Reduces the depth and volume of wrinkles
Improves endogenous hyaluronic acid synthesis
Scientific studies and evidence on the QUALITY AND BEAUTY OF THE SKIN:
A 200 mg hyaluronic acid supplement was taken every day for 28 days.
A rapid action and a prolonged effect over time have been demonstrated, with a significant increase in the quantity of hyaluronic acid in the blood (+40%)
Notably in terms of depth and volume of wrinkles, a significant improvement in skin relief has been demonstrated: wrinkles appear less pronounced (-17%) and less deep (-18%).
A significant effect on the markers of healthy skin - hydration and elasticity - was observed: the skin is better hydrated (+11%), the skin appears younger (+4%)
Main roles and functions of acid hyaluronic on the skin - Young skin / Mature skin: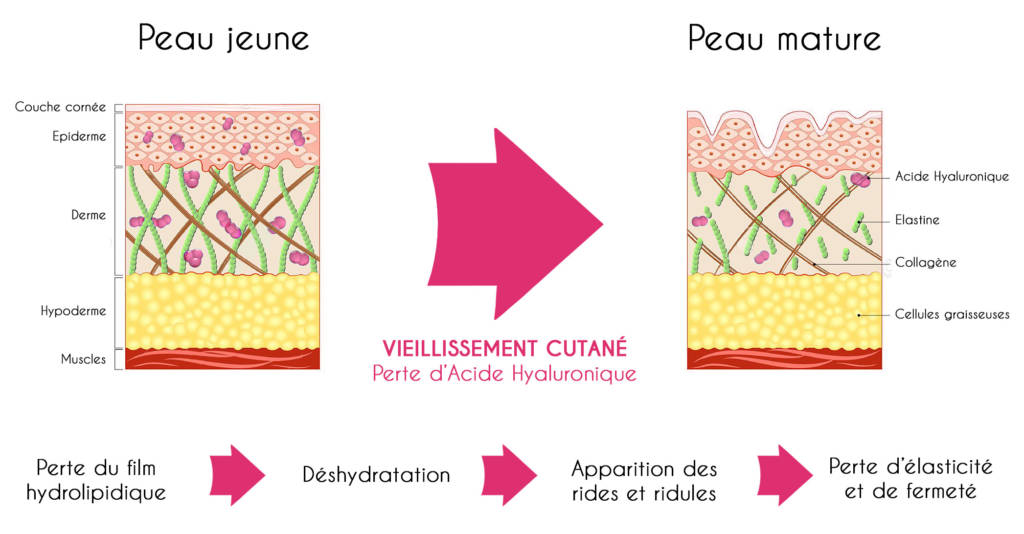 3. VITAMIN C
TO COMBAT FATIGUE AND CELL AGEING
It also plays an important role in the metabolism and normal function of the body through various biochemical reactions and collagen synthesis in particular!
Vitamin C (or ascorbic acid) is a major vitamin found in fruits and vegetables. The human body cannot synthesise vitamin C and the only way we can get an adequate supply is through food. It is sensitive to cooking and to air. It is therefore important to eat fresh fruit and vegetables quickly to make the most of their vitamin C content.
It mainly helps to reduce fatigue, combat oxidation and cell ageing, and strengthen the immune system.
This is why we have selected acerola powder, a fruit particularly rich in natural vitamin C.
Its major functions on the SKIN are as follows:
Helps to promote normal collagen formation
Helps to protect cells against oxidative stress.
More information ? Your most frequently asked questions?
Consult our FAQ dedicated to marine collagen
1 dose / day = 6 g = 1 tablespoon =
5g of collagen proteins in the form of hydrolysed peptides with rapid and complete assimilation
200 mg hyaluronic acid
60 mg of vitamin C

For best results, consume 1 dose per day, at breakfast or before dinner.
1.5-, 3-month course of treatment (1 or 3 jars) to be repeated if necessary.

And for maximum effectiveness we advise you to use in addition with PURE MARINE COLLAGEN, or whey protein ELIXIR:
or 1 dose of COLLAGEN SKIN & ANTI-AGEING + 1 dose of ELIXIR PUR whey protein or ELIXIR PLUS whey powder
Skin and joint problems at the same time?
If you are concerned by skin and joint problems at the same time, you can combine 2 collagens together, for example by taking :
And enjoy a 10% discount on the purchase of one collagen of each with the code: COLLMIX
MODE D'EMPLOI

1 dose (= 6g = 1 tablespoon) per day, at breakfast or before dinner, added to:
150 to 200ml water - mix with a shaker to facilitate dissolution
or sparkling water or a warm drink (tea, herbal tea, coffee, etc.)
or a yoghurt or vegetable dessert
AVOID COOKING
PRECAUTION OF USE
Collagen is not a substitute for a varied, balanced diet. Use as part of a healthy lifestyle. Keep out of the reach of young children. Do not exceed the daily recommended dose. Seek medical advice before using this product if you have kidney failure. Store in a cool, dry place, protected from light.
OUR VIDEO RECIPE - Delicious fruit beauty cream - click here

Vitamin C-rich hydrolysed marine collagen with hyaluronic acid.

For approximately 45 doses (days)
INGREDIENTS : hydrolysed fish collagen (89%), acerola (Malpighia glabra) juice powder titrated in vitamin C, sodium hyaluronate (3.3%) titrated in hyaluronic acid, anti-caking agent: magnesium carbonate.
May contain traces of milk, soya, egg, gluten.