A NATURAL, UNIVERSAL FUNCTIONAL INGREDIENT TO BOOST/RESTORE JOINT MOBILITY, STRENGTHEN MUSCLES AND TISSUE ELASTICITY, AND FIGHT INFLAMMATION.
A pure, made-in-France, essential ingredient with a neutral taste to help boost and maintain the natural synthesis of collagen fibres
Collagen was naturally consumed long ago by our ancestors, whose diet had a higher animal collagen content (skin, cartilage and bones). Collagen is compatible with a paleo- friendly diet.
Traditionally used in Japan, where it is known to be particularly biocompatible or bioactive, as well as ensuring good bioavailability
It consists of proteins in the form of hydrolysed peptides (enzymatic hydrolysis) from bioactive natural marine collagen developed using a

sustainable developmental strategy

Molecular weight less than 4 kilodaltons (kDa). It is a low molecular weight, optimised for maximum assimilation and better biological efficiency (bio-active peptides). In comparison, collagen before hydrolysis has a molecular weight of 300 kDa
Particularly rich in the amino acids glycine, proline and hydroxyproline, which are involved in collagen synthesis and connective tissue regeneration
Also rich in glutamine, which contributes to the acid-base balance and repair of intestinal cells, and therefore supports the immune system
GMO free - Fat free - Carbohydrate and sugar free - Preservative free
No ionisation treatment - No radioactivity
Strict manufacturing standards - Quality in accordance with ISO 9001 - ISO 22000
Halal certification
100% fish origin: no risk of BSE for bovine collagen, no risk of avian flu for chicken collagen
Peptides are derived from natural collagen, which is cut into smaller pieces (enzymatic hydrolysis) which are easier to digest.
Thanks to its neutral taste, it can be used

as an ingredient of choice in your recipes and home-made snacks

, or

simply added to ready-made preparations

(drinks, smoothies, yoghurt, puddings or purées, etc.)
CAN BE COOKED
It is particularly suitable when collagen protein intake is inadequate and/or needs are increased: advancing age, convalescence, physical exercise, pregnancy or breast-feeding, etc.
Points to note:
Collagen is naturally present in the body (muscles, skin, bones, tendons, cartilage, hair, nails, etc.) and plays a major role in providing support and/or increasing elasticity.
From the age of 25, collagen production in humans decreases by 1.5% per year.
From the age of 45, the body produces about 1/3 less collagen, resulting in

reduced tissue tone

(joints, muscles, skin, etc.),

loss of mobility

and

loss of the overall "youthful" appearance

.
Current diets – which are often unbalanced with over-emphasis on ready meals and lean meat without bones or cartilage – leads to lower external collagen consumption.
An additional supply of bioactive collagen - rich in key amino acids that make up type I collagen - helps to

stimulate and restart the body's own collagen metabolism

. In joint cartilage, the hydrolysed peptides contained in our marine collagen also stimulate chondrocyte production - cells that are involved in type II collagen synthesis
Studies and scientific evidence:
A supplementation of 10g/day of bioactive fish collagen peptides was performed for 12 to 14 weeks.
Significant results were observed

as early as 6 weeks

on various functions.
JOINTS: studies have shown, in particular, over 12 weeks (3 months) the interest of supplementation with our marine collagen to relieve the symptoms of osteoarthritis of the knee, symptoms such as pain and physical capacity or function. A correlated improvement in quality of life was observed. This study has thus demonstrated the role of collagen in joint health.
MUSCLE AND BONE: A significant increase in muscle mass and strength has been shown, as well as a significant increase in bone density. Thus an overall improvement in the body's musculoskeletal system. In vivo study over 14 weeks. A recent clinical study in humans showed a significant increase in physical performance. 15g/day for 24 weeks
SKIN BEAUTY: a significant improvement in skin hydration (+23%), a significant increase in skin elasticity (+24%) as well as a decrease in skin relief - "wrinkles" (-9%) have been shown. An overall "anti-ageing" action that can be explained in part by a better defence reaction of the skin against the effects of time and the environment (slowing down of endogenous synthesis, UV radiation, pollution). Clinical study over 12 weeks
INTESTINAL COMFORT: finally, studies have shown anti-inflammatory activities and positive effects on the composition of the intestinal microbiota, for better protection in the event of chronic inflammation of the mucous membrane of the colon and rectum, and for better integrity of the intestine - in particular linked to the richness of the amino acid Glutamine - and better intestinal comfort, and consequently to support for the immune system.
WEIGHT CONTROL: Further studies have shown that supplementation with collagen peptides over a minimum of 12 weeks helps to limit weight gain and mainly fat mass. In fact, it also helps to limit associated health problems such as cholesterol, insulin resistance and high blood sugar, as well as inflammation markers such as cytokines.
IMMUNITY AND INFLAMMATION: recent studies have shown that marine collagen peptides also play a major role in modulating the expression of various immune factors: reduction of pro-inflammatory factors (such as IL1ß), increase of anti-inflammatory factors (such as IL10 and TGFß). Thus a cure of pure marine collagen helps to reduce inflammation in general and contributes to strengthening our defence systems to maintain good health.

Collagen therefore plays a major role in preventing and managing joint disorders and the effects of cell ageing, as well as preventing weight gain and exercise-related risks. At the same time, it promotes intestinal well-being and health and anti-ageing in general.
Main roles and functions of collagen in our body: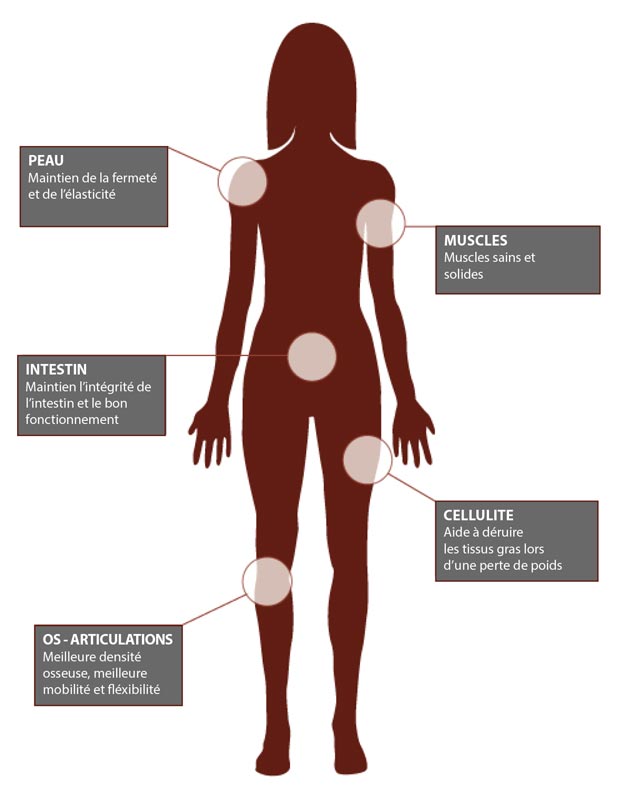 What is osteoarthritis?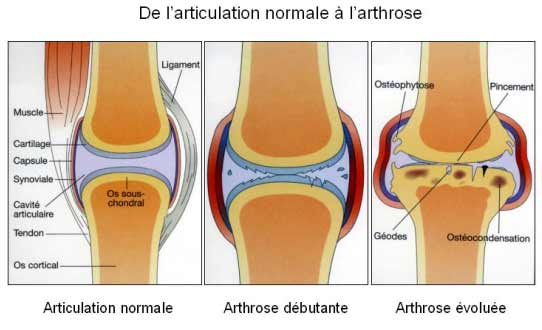 WHY EAT PROTEIN EVERY DAY?
Protein helps to build and maintain muscle mass.
Protein helps to maintain a normal bone structure.
Protein is also a long-lasting source of energy.
It is a MAJOR NUTRIENT to boost vitality!
1 dose =
10g of hydrolysed marine collagen - in the form of rapidly and completely assimilated peptides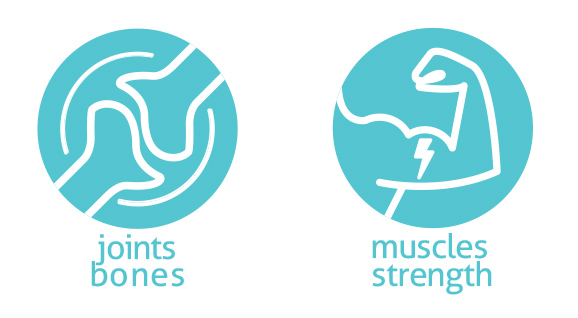 For best results, take 1 dose per day, at breakfast or before dinner.
2-, 3- or 4-month course of treatment (2, 3 or 4 jars).
Are you experiencing joint and skin problems at the same time?
If you are experiencing skin and joint problems at the same time, combine 2 collagen products together, such as:
And get a 10% discount with each collagen. Enter the COLLMIX code at the check-out!
DIRECTIONS FOR USE
1 dose (= 10g of marine collagen) per day, at breakfast or before dinner, added to:
water or preferably a smoothie, fruit or vegetable juice
or a warm soup, yoghurt or vegetable dessert
a home-made biscuit or bar recipe
OUR DELICIOUS RECIPE: STRAWBERRY SMOOTHIE
1 dose of Marine Collagen
50 g strawberries (frozen or fresh)
1 banana
3 hazelnuts + 3 nuts
1 glass of water
Blend all the ingredients in the blender until you obtain a smooth texture.
Add any toppings you like: strawberries, coconut shavings, orange, cranberry, raw cocoa nibs, pollen, etc.
PRECAUTION OF USE
Collagen is not a substitute for a varied, balanced diet. Use as part of a healthy lifestyle. Keep out of the reach of young children. Do not exceed the daily recommended dose. Seek medical advice before using this product if you have kidney failure. Store in a cool, dry place, protected from light.
If you are taking medical treatment in particular or are following a protein-controlled diet, inform your treating physician. He/she will be able to adjust the dosage of the medicinal products, if required, depending on the improvement in your general condition.
Hydrolysed marine collagen peptides
Rich in protein
Sugar free
For about 30 doses
INGREDIENTS: 100% marine hydrolysed collagen (naturally from fish from a sustainable development approach).